Indian Breed Cows -The world's best milk yielding breeds
Indian Gir cow gives record 62 lit/day milk in Brazil This majestic cow which you can see in the picture above is from Brazil. Belonging to the Gir breed of Gujarat, this cow -- named She-ra -- clocked 62.033 litres of milk/day in a 3-day milk competition at the 40th Expaja in Brazil, beating her own record of 59.947 litres.
While Indian cattle breeds are doing exceptionally well abroad, the fascination of our own policy makers for exotic breeds seems to be never ending. Meanwhile, Brazil has emerged as the biggest exporter of Indian breeds of cows. Recently I wrote: "newspapers in Punjab reported that an American company -- World Wide Sires Ltd -- is planning to provide high quality semen to dairy farmers.
Some days back, Kerala minister for Animal Husbandry was thinking of importing some improved cattle breeds from Denmark for cross breeding with local cows." A few weeks back, Punjab Chief Minister Prakash Singh Badal announced the setting up of an advanced institute for dairy farming in Mohali. This will be a joint collaboration with an Israeli firm -- Dairy Farming Solutions -- and will impart latest technology to farmers to improve the milch cattle.
Not only in Brazil, Indian cattle breeds have also been improved upon in the United States and Australia. In the US, the breed is called Brahman. Recently, after a study visit to Malaysia, Sagari Ramdas, the co-director of Anthra in Andhra Pradesh, wrote in the Down to Earth magazine: "On our visit to Malaysia, we were intrigued when we came across a cattle breed, which the farmers kept referring to as "the Brahman". This was a complete mystery to us. Which Brahman came to Malaysia and named these cattle the Brahman?"
"On our visit to the government's Department of Veterinary Services in the state of Selangor we saw photographs of the Grey Brahman, the Red Brahman and the Nellore—all part of a poster on cattle breeds of Malaysia. Not to mention that the Jamunapari goat also featured in the poster as a goat breed of the country. This intrigued us even further, but none of the veterinary officers could explain how the Nellore from Andhra Pradesh and the Jamunapari from Uttar Pradesh happened to figure in a poster on the breeds of Malaysia."
She came back and researched. "Brahman breed is a product of biopiracy of several Indian breeds, which occurred over 100 years ago, when India was a colony of the British Empire, when "pirates" of today's "Empire"—and modern day "Brahman", the US—spirited out a nucleus of approximately 266 bulls and 22 females of several Bos indicus (Indian cattle), imported them to the US between 1854 and 1926, and developed the breed.
According to the literature, the Brahman is the progeny of four Indian cattle breeds: the Kankrej and Gir from Gujarat, the Ongole (earlier known as the Nellore) from Andhra Pradesh, with the fourth breed being the "Gujarat". But no such breed exists in the list of Indian cattle breeds.
When will we begin to recognise our desi breeds of cows? Why is it that planners are averse to our own domestic breeds? Another little known fact is that Indian cows and buffaloes produce a more nutritious milk than the exotic breeds like Jersey and Holstein-Friesian.
A recent study by Karnal-based National Bureau of Animal Genetic Resources (NBAGR) showed Indian cows have a rich A2 allele gene which helps them produce healthier milk. The frequency of this A2 allele in Indian breeds is 100 per cent whereas in exotic cattle breeds it is less than 60 per cent. Imported breeds posses A1 allele, which is considered to be associated with diabetes, obesity and cardiovascular diseases. But still our policymakers want the future generations to be sick with lifestyle diseases by ignoring the desi cow breeds?
Most countries are acquiring Indian cows' genes to improve their cattle and we are using their discarded stuff.
Brahman cattle –
This is just one of the examples of Indian cattle being used in US, Brazil and other major beef and Milk producing countries. It is a mixture of 3 Indian milch breeds. Gir, Kankrej and Ongole. All the above mentioned cows are best Milch(milking) breeds of India and are pretty huge in size. However they consume less compared to most modern dairy cows.
Gir –
Gir cows of Brazil are basically Gir cows from Gujarat, India; which are today used in many parts of world thanks to Brazilians marketing. Narendra Modi was trying to import few gyr cows from Brazil but when you have something in-house why not develop it instead of acquiring it. Gyr produce 20 to 30 litres of Milk a day. This is all because they have dedicated good place for grazing and only good dedicated bulls are used. I also feel they have hybrid genes, because they produce 5 to 8 liters naturally in their home tract. On the other hand our policy makers are making way for IT parks and malls; destroying their natural habitats.
Texas Longhorn is know for its iconic long horns measuring upto 7 feet in length from tip to tip. Latest study reveals they have Indian cattle genes as well. Source
Fertility – Birth Cycle and Lactation Period
Indian Zebu cows are very fertile. They get easily pregnant and calving is cake walk for them. Believe me Indian cows give birth without any assistance and infant mortality rate is almost nil. Even for bigger breeds(gir, tharparkar, kankrej, ongole etc)calving is easy because calves at birth are very small. Where as western breed calf are generally bulky and bigger creating complication even to the mother cow(holstein friesian semen when used on a small jersey or on a hybrid cow normally creates this problem).
Because of this quality farmers have large herd or number of animals born in a few years that too without any hassle(no antibiotics or vet assistance is required). Where as hybrid or western breeds struggle and mortality is very high. Most of the time farmers are at loss because of this phenomena in long run.
Coming to Milk
Indian cows give less milk and their lactation stops after 3 months of getting conceived. Where as western breeds keep giving milk even when they are approaching next pregnancy. This makes them weak and even the new born calf suffer. So hybrid and western cows will normally give good milk for 2 or 3 birth cycle after which most of them are sent for slaughter.
But if you stop giving commercial cattle feed, milk production reduces even in hybrid cows. This is a clear evidence of oxytocin or other hormone present in feed.
Where as Indian cows will give birth 10 to 15 calf in her life cycle. In this way they produce more milk than western cows.
Not just that their milk is of medicinal quality and fetches higher price.
You should avoid A1 Milk of Hybrid and modern western dairy cows. Read more here on
A1 or A2 milk
So why are Indian Cows Small in Size with Bone Sticking Out of Skin?
Coming to Indian cows. I believe you have not seen most Indian breeds. Google some of the below mentioned breeds. You will realize the size and their health.
Gir, Kankrej, Amrith mahal, Kangayam, Ongole, Tharparker, Deoni.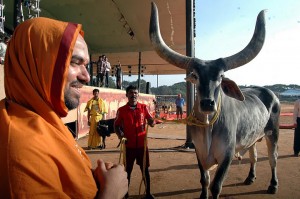 Most Indian cows during feed scarcity can reverse down their metabolism.
They have the ability to convert inferior fodder into nourishing food using certain helpful bacteria. They can easily utilize crude protein.
Look at deer, zebra and other animals they just feed on grass and plain water. Cows are some what similar to them in looks and health. But it is the bad way we raise them. They are always tied to a tree or pole and not fed enough. Mainly because of habitat destruction. Healthy cows have large chest area and they would look similar to a horse and not with huge pot belly.
Ongole is one of the Finest remaining Cattle Breed of India.
Ongole is one such breed facing habitat destruction and Artificial Insemination has almost rendered this breed extinct. Same is the fate with other good Indian cows. To keep a Ongole bull you have to spend around 2000 rupees a day even in rural areas. Some dedicated souls are still doing it, but for how long???